You will require to download some tools in order to accomplish the tasks set-out above. Note:for some files you will need a free registration to access the downloads section at Eurasia please visit them and register before clicking on the following links or access to the files will be denied click Here to register the link will take you to eurasia.nu registration screen.
Important All the files you will download use a compression called "rar" so you will need a tool called "Winrar" to decompress the files it can be downloaded from Here
Get Avalaunch version 0.49.1 click Here of course if you see a newer version download it instead
Get the Hard-drive Replace Image utility from Here
If you don't have it already get FlashFXP Here or you can use any FTP program you have
There is 2 ways to update or replace an existing dashboard (please note that if interrupted for any reason you may have problems getting your Xbox to work so I advise to use method 2)
Suggested for more experienced users, boot from any '.iso' image that enables the FTP support option (if you downloaded 'Slayers Auto-Installer' you have what you need) delete the contents of your drive 'C:' and FTP the dashboard of your choice back to the 'C:' drive
Use the method outlined below 'How to upgrade your hard-drive and upgrade your dashboard at the same time'
How to back up your Hard-drive


This is actually much easier than it sounds connect to your Xbox using any FTP program and copy the contents of your 'C:' drive to a directory called 'cdrive' when finished do the exact same thing with the contents of your 'E:' drive, copy everything to a directory called 'edrive' these directories will be needed for the section below



How to upgrade your hard-drive and upgrade your dashboard at the same time.


If you downloaded all the files needed at the start of this section you'll have the file called:
'Hard-drive_Replace_Image.zip' unzip the file and you should see these directories.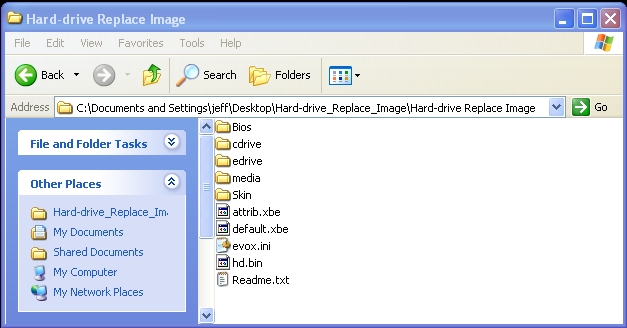 How to use this utility
Put the Contents of your Xbox 'C:' drive in to the directory 'cdrive'
Put the Contents of your Xbox 'E:' drive in to the directory 'edrive'
Burn the Contents of this archive onto a CDRW or DVD-R in Proper Xbox format by first creating an '.iso' use Qwix and select the root dir 'Hard-drive Replace Image' and create the '.iso' Image, click Here if you need instructions using Qwix
Burn the image to a DVD-R with whatever writing program you use. a CD-R will work but this will load much faster form a DVD-R, I suggest Nero for burning the '.iso' image but whatever program works is fine, If you need help on this consult your documentation
Install new or to be updated HardDrive into your XBOX power on (error message may show up) put the burnt image into the Xbox
Close the DVD-drive tray and Power OFF wait 10 seconds and Power ON the Xbox.
Evox menu will appear, Select 'Prepare NewHD' and follow the prompts
Select 'Fix Attributes' and follow the prompts
Eject CD from tray and reboot Xbox
Your harddrive is now ready for use on your Xbox.
OK so if you haven't figured this out you can but whatever programs or dashboard you want installed into the 'cdrive' and 'edrive' directories thesa tools can be used to create a simple back-up restore disk, or by placing the files for an updated or new dashboard into the 'cdrive' you now have an upgrade disk. If you want to include your favorite applications simply put them in the 'edrive' 'apps' directory and your dashboard will be installed along with your applications.

Bios update


If your Xbox hasn't been 'Modded' click Here for those of you with a modded Xbox you will fall into two possible situations
You or a buddy Flashed the TSOP and you know that the points are still soldered to enable writing to your TSOP! you also know what size of bios you need. if this is you then follow instructions below
You don't have a clue who how or what version of Xbox you have visit the article Here and follow all of the instructions but you won't need the 007 save game hacks since your box is "Modded" just remember to check for your version of Xbox and whether the points for writing the TSOP are soldered, if not you will need to solder them before following the instructions below.
You will need 'Slayers Auto-Installer '
Here is a 'BitTorrent' file to download 'Slayers Evox Auto Installer v2.5' click Here
If you do not have 'BitTorrent' or wish to use 'eMule' or 'edonkey2000' then simply do a search for 'Slayer and you should be able to locate and download the file easily.
I suggest using 'Xecuter2 4981' which can also be downloaded Here
Prepare the bios the way you want by following instructions Here
Once your done use Qwix and extract the 'Slayers Evox Auto Installer v2.5.iso' if unsure click Here for instructions.
Place the bios you wish to use under the bios directory from the extracted .iso
Create a new .iso from the extracted directory that now contains the bios you will use to flash, if unsure click Here for instructions.
Burn the image to a DVD-R with whatever writing program you use. a CD-R will work but this will load much faster form a DVD-R, I suggest Nero for burning the .iso image but whatever program works is fine, If you need help on this consult your documentation
Power 'ON' the Xbox put the burnt image into the Xbox
Close the DVD-drive tray and Power OFF wait 10 seconds and Power ON the Xbox.
Evox menu will appear, Select 'Flash Bios' and follow the prompts
Wait for Instructions telling you Flash was completed successfully and reboot
Note: using the 'Xecuter2 4981' bios will solve all kinds of nasty problems including the 'Clock Loop' and you can boot multiple .xbe's in the order of your choice, if you need help read the section on 'XBTool' which is Here