Building your own R/C Racing Track
I actually made my track from a set of 2'x2' yoga mats that I purchased at the local Loblaws supermarket you probably have seen the smaller 1'x1' tiles used in children's play areas. These worked out great as the package contained 2 gray and 2 black tiles for a mere $19.99
Click on any photo to enlarge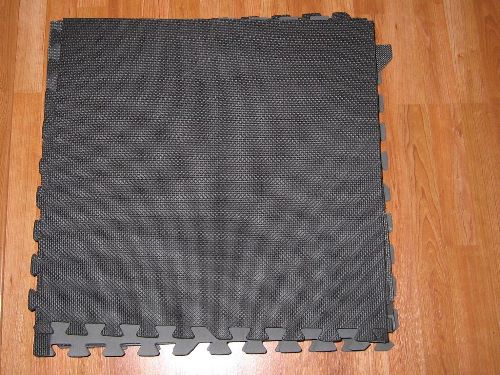 Here you can see my entire 4'x6' track layout stacked neatly for storage or transportation to a friend's house. Now remember you can enlarge the track to say a 4'X8' track by adding a few more tiles and the layout can changed also, for example you could run a 'L' shape track.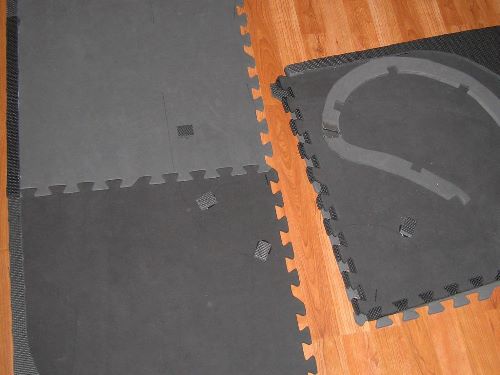 Here you can see how the sections fit together, the little foam blocks you see glued down on the surface are to hold the inner guide rails in place. I purchased a total of eight 2'x2' tiles and used 6 tiles for the base leaving me with 2 tiles that I cut into the guide rails. I also managed to get a few strips of material from the sides by trimming 1" from the edge of the tiles where any unwanted 'teeth' would stick out. I then trimmed the 'teeth' off leaving me with some nice 1" strips.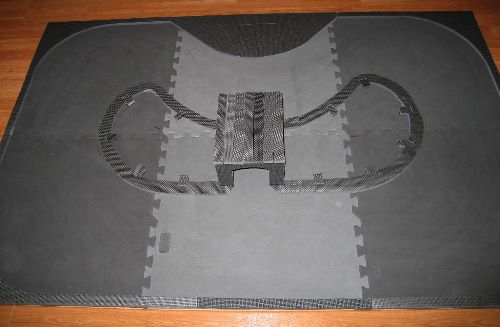 The completed track you'll notice the 'Tunnel' in the middle of the layout (a request from my Daughter) is made from the extra 1" strips I was mentioning earlier. I used a glue called 'GOOP' to glue all the side rails and the foam guide pieces to the track. I like the glue because it remains fairly flexible like silicone but is less smelly to apply and dries faster.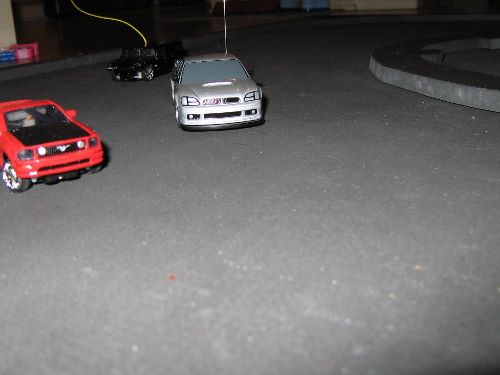 The surface is ideal for R/C racing and having the side guide rails in the same material ensures your R/C cars bodies will remain in nice shape, well that depends on your fellow drivers I guess...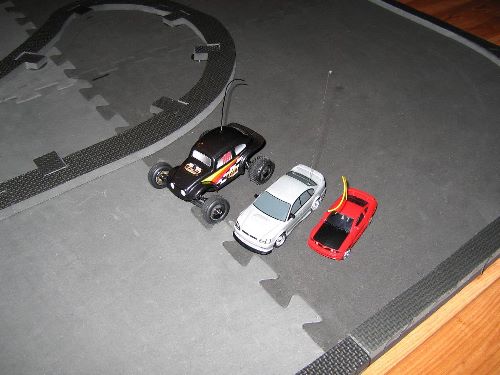 Here you can get a better idea of just how large the track is compared to the various scale of R/C's, the smaller MicroZ GT (1:50) followed by the Epoch Indoor Racer (1:43) and the largest being the Losi Micro-T (1:36).
I have created a little video of the various R/C cars running on my home-made track you can view a 640x480 or a 320x240 version by clicking the links below.