Sony XBR 40'' Television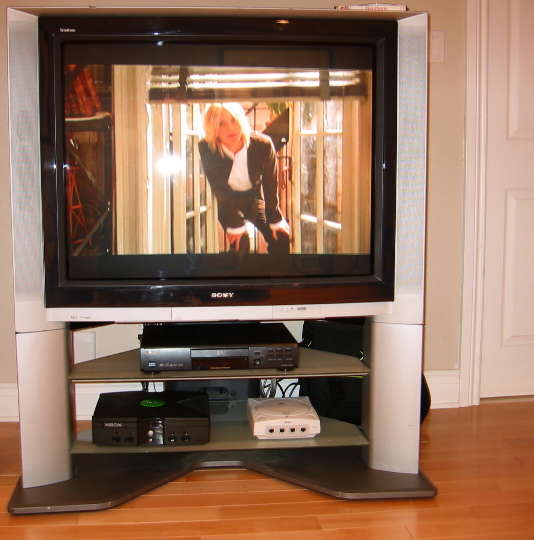 Click Here to enlarge
The inclusion of a television made sense for these reasons:
1) Bulbs for the projector are expensive.
2) An extra large head giving you the latest news is weird.
3) Regular television shows to many artifacts at the 100'' size.
4) Wife friendly, she can turn it on without a manual.
5) For video games you can't beat a direct view television.
You'll notice the X-box and Sega Dreamcast consoles in the picture, The X-box uses the high-definition pack to display games up to 1080i (most games run at 480p) and looks utterly fantastic on the 40'' television, it looks great on the projector but the extra large viewing area makes gameplay harder as you have to scan so much of the picture when playing games, also the lowlight condtions while playing games make it difficult to find those buttons in the dark.
This particular television was a damaged floor model and was purchased for $2,000.00 we can live with some cosmetic damage, if you look carefully at the very top edge of the T.V. about 12'' in from the left side you'll see a spot that looks like a hot-roll or something was placed against the T.V. and it left an impression (you may have to enlarge the picture to see it).
Final costs for the complete Home Theater system:
Speakers, subwoofers and QSC amplifiers = $3,000.00
Projector with ceiling mount and cables = $1,500.00
Sony 40'' television = $2,000.00
X-Box with the high definition pack = $300.00
Complete cabling and interconnects = $350.00
Panasonic DVD Player = $150.00
Technics AC3 Decoder = $200.00
Mouldings, paint and misc items. = $500.00
Total amount spent was $8,000.00
So we managed to build a complete Home Theater system that is able to stand with anything in its price range and perhaps even twice that, but most of you can build a decent system for much less. Whatever budget your working with you can have great results, the goal is to enjoy the process while making smart purchases that have been researched before dropping any of your hard-earned money!